WHAT CONGRESS AND GANDHI HAVE DONE TO THE UNTOUCHABLES - by Dr. B R Ambedkar - Part 3

Chapter 2 summary

A SHABBY SHOW

Congress Abandons Its Plan

Part 2
(Part - 1 -
http://mooknaayak.forumotion.com/t24-what-congress-and-gandhi-have-done-to-the-untouchables-chapter-2-summary-a-shabby-show-part-1-congress-abandons-its-plan-by-dr-br-ambedkar#29)
Rupees one crore and thirty lakhs were contributed by the public to the fund. The fund was collected to carry out Congress propaganda and to finance the constructive programme of the Congress as drafted by the Working Committee at Bardoli.

There was not only no principle, there was shameful favouritism in the distribution of the fund. Out of the total of 49 1/2 lakhs which was distributed in the three years Gujrath— Mr. Gandhi's province—got 26 1/4 lakhs while the rest of India got 28 lakhs. This means that a population numbering 29 1/2 lakhs got 26 1/4 lakhs while the rest of India numbering about 23 crores got 23 lakhs !

It is unnecessary to pursue the story of the organised and systematic loot by Congressmen of the balance of 1 crore and 80 lakhs which was spent in subsequent years. It is enough to say that never was there such an organised loot of public money.

And what was to be the dimension of this separate Untouchable Fund ? The All-India Congress Committee fixed it at five lakhs. The Working Committee felt it was too big an amount for so unimportant and so unprofitable a work as the amelioration of the Untouchables and reduced its total to Rs. two lakhs. Two lakhs for sixty millions Untouchables!!

To sum up, the Congress could find only Rs. 48,881 out of Rs. 49 1/2 lakhs which it spent for carrying out the Constructive otherwise known as the Bardoli Programme in which the uplift of the Untouchables was given so much prominence. Can there be a grosser instance of insincerity than this ? Where is the love for the Untouchables which the Congress professed for the Untouchables ? Where is the desire of the Congress to undertake the uplift of the Untouchables ? Would it be wrong to say that the Bardoli resolution was a fraud in so far as it related to the Untouchables ?
Chapter 2 ends with Part 2 (
Chapter - 3
-
http://mooknaayak.forumotion.com/t27-what-congress-and-gandhi-have-done-to-the-untouchables-chapter-3-summary-a-mean-deal-part-1-congress-refuses-to-part-with-power-by-dr-br-ambedkar#32
).
Note: Untouchables by constitution of India are called as Schedule Castes (SC) and Schedule Tribes(ST).
To read complete Chapter or book or more literature of DR. BR Ambedkar click
http://drambedkarbooks.wordpress.com/dr-b-r-ambedkar-books/
This forum is maintained by Cowdung Films
www.cowdungfilms.com
Editor: Nikhil Sablania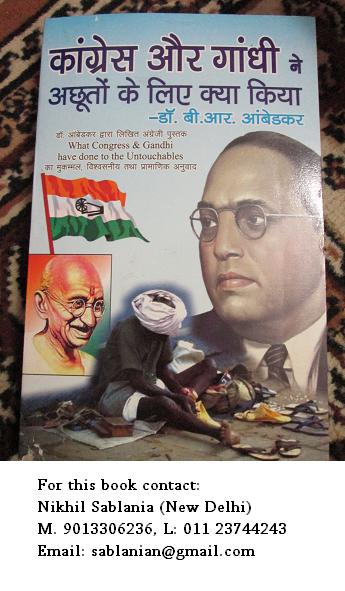 काँग्रेस और गाँधी ने अछूतों के लिए क्या किया?
: लेखक: डा बी आर आंबेडकर : यह पुस्तक अवश्य पढने योग्य है. मात्र इस पुस्तक को पढने से न सिर्फ आप भारत की राजनीती को समझते हैं बल्कि यह पुस्तक आपके मस्तिक्षक को इतना विकसित कर देगी जिससे कि न सिर्फ आपको भारत में बदलती राजनीती को समझने में मदद मिलेगी बल्कि आप में यह सामर्थ्यता भी आएगी है कि आप खुद को देश कि राजनैतिक व्यवस्था में किस प्रकार दिशा देते हैं. बाबा साहेब जी द्वारा लिखी यह एक ऐतिहासिक और दुर्लभ राजनैतिक कृति है. - निखिल सबलाणिया
हिंदी में यह पुस्तक मंगवाने के लिए संपर्क करे :
निखिल सबलाणिया
Nikhil Sablania
9013306236, 011 23744243
sablanian@gmail.com
Admin




Posts

: 76


Join date

: 2010-10-23




---
Permissions in this forum:
You
cannot
reply to topics in this forum