WHAT CONGRESS AND GANDHI HAVE DONE TO THE UNTOUCHABLES - by Dr. B R Ambedkar - Part 8

Chapter 3 Summary

A MEAN DEAL

Part-5
(Part-4
http://mooknaayak.forumotion.com/t36-what-congress-and-gandhi-have-done-to-the-untouchables-7-chapter-3-summary-a-mean-deal-part-4-congress-refuses-to-part-with-power-by-dr-br-ambedkar)
Thus ended the efforts by the Minorities Committee to bring about a solution of the communal problem. The discussion in the Committee threw Mr. Gandhi's attitude to the Untouchables in relief. Everybody felt that Mr. Gandhi was the most determined enemy of the Untouchables. So much of his energy and attention did Mr. Gandhi concentrate on the question of the Untouchables that it would not be unfair if it was said that the main purpose for which Mr. Gandhi came to the Round Table Conference was to oppose the demands of the Untouchables.

Mr. Gandhi at the Round Table Conference was not satisfied with mere propaganda. When he found that the propaganda was not succeeding as well as he expected he resorted to intrigue. When Mr. Gandhi heard that at the suggestion of the Prime Minister the minorities were about to produce a settlement and that this settlement would have the effect of the Untouchables getting the support of the other minorities and particularly of the Muslims, Mr. Gandhi felt considerably disturbed. He devised a scheme to isolate the Untouchables. For this Mr. Gandhi planned to buy out the Musalmaus by giving to the Musalmans their fourteen demands, which Mr. Gandhi was not in the beginning prepared to agree. When he found the Musalmans were lending their support to the Untouchables Mr. Gandhi agreed to them their fourteen points on condition that they withdrew their support from the Untouchables.

Mr. Gandhi did not care to honour his word. In the Minorities Committee, Mr. Gandhi had said that if the Committee agreed to accept the claim of the Untouchables for separate recognition it was free to do so, which meant that he would abide by the decision of the majority. But when he came to know that the other minorities had agreed to support the Untouchables, he did not hesitate to approach the Musalmans and turn them against the Untouchables by accepting their fourteen points which the Congress, the Hindu Maha Sabha and even the Simon Commission had rejected.
Part 9
http://mooknaayak.forumotion.com/t61-what-congress-and-gandhi-have-done-to-the-untouchables-9-chapter-3-summary-a-mean-deal-part-6-congress-refuses-to-part-with-power-by-dr-br-ambedkar
Note: Untouchables by constitution of India are called as Schedule Castes (SC) and Schedule Tribes(ST).
To read complete Chapter or book or more literature of DR. BR Ambedkar click
http://drambedkarbooks.wordpress.com/dr-b-r-ambedkar-books/
This forum is maintained by Cowdung Films
www.cowdungfilms.com
Editor: Nikhil Sablania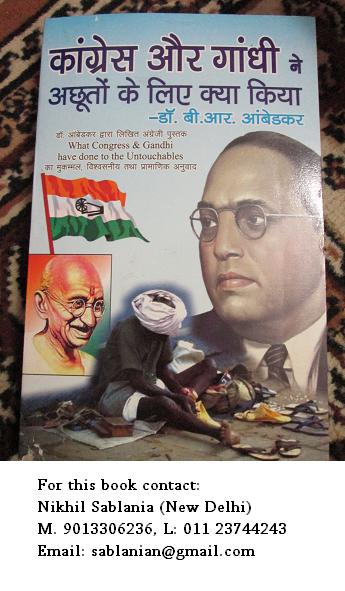 काँग्रेस और गाँधी ने अछूतों के लिए क्या किया?
: लेखक: डा बी आर आंबेडकर : यह पुस्तक अवश्य पढने योग्य है. मात्र इस पुस्तक को पढने से न सिर्फ आप भारत की राजनीती को समझते हैं बल्कि यह पुस्तक आपके मस्तिक्षक को इतना विकसित कर देगी जिससे कि न सिर्फ आपको भारत में बदलती राजनीती को समझने में मदद मिलेगी बल्कि आप में यह सामर्थ्यता भी आएगी है कि आप खुद को देश कि राजनैतिक व्यवस्था में किस प्रकार दिशा देते हैं. बाबा साहेब जी द्वारा लिखी यह एक ऐतिहासिक और दुर्लभ राजनैतिक कृति है. - निखिल सबलाणिया
हिंदी में यह पुस्तक मंगवाने के लिए संपर्क करे :
निखिल सबलाणिया
Nikhil Sablania
9013306236, 011 23744243
sablanian@gmail.com
Admin




Posts

: 76


Join date

: 2010-10-23




---
Permissions in this forum:
You
cannot
reply to topics in this forum