Chapter 3 Summary

A MEAN DEAL

Part-7
Part-6 -
http://mooknaayak.forumotion.com/t44-what-congress-and-gandhi-have-done-to-the-untouchables-8-chapter-3-summary-a-mean-deal-part-5-congress-refuses-to-part-with-power-by-dr-br-ambedkar
Mr. Gandhi on his arrival was arrested and put in jail. Though in jail, not Swaraj but the Untouchables were on, his brain.

Long before any decision was given, by the Prime Minister, Mr. Gandhi on 11th March 1932 addressed from jail a letter to Sir Samuel Hoare, the then Secretary of State for India, reminding him of his opposition to the claim of the Untouchables. The following is the text of that letter :—

"DEAR SIR SAMUEL,

You will perhaps recollect that at the end of my speech at the Round Table Conference when the Minorities' claim was presented, I had said that I should resist with my life the grant of separate electorates to the Depressed Classes. This was not said in the heat of the moment nor by way of rhetoric. It was meant to be a serious statement. In pursuance of that statement, I had hoped on my return to India to mobilize public opinion against separate electorates, at any rate, for the Depressed Classes. But it was not to be.

The following reply was sent to Mr. Gandhi by the Secretary of State:—

INDIA OFFICE, WHITEHALL,

April 13, 1932.

DEAR MR. GANDHI,

"I write this in answer to your letter of 11th March, and I say at once I realize fully the strength of your feeling upon the question of separate electorates for the Depressed Classes. I can only say that we intend to give any decision that may be necessary solely and only upon the merits of the case. As you are aware, Lord Lothian's Committee has not yet completed its tour and it must be some weeks before we can receive any conclusions at which it may have arrived. When we receive that report we shall have to give most careful consideration to its recommendations, and we shall not give a decision until we have taken into account, in addition to the view expressed by the Committee, the views that you and those who think with you have so forcibly expressed. I feel sure if you were in our position you would be taking exactly the same action we intend to take. You would admit the Committees report, you would then give it your fullest consideration, and before arriving at a final decision you would take into account the views that have been expressed on both sides of the controversy. More than this I cannot say. Indeed I do not imagine you would expect me to say more."

On the 17th August 1932 the decision of the Prime Minister on the communal question, was announced.

That part of the decision which relates to the Untouchables is produced below:—

Communal Decision by His Majesty's Government 1932.

Members of the "depressed classes" qualified to vote will vote in a general constituency. In view of the fact that for a considerable period these classes would be unlikely, by this means alone, to secure any adequate representation in the Legislature, a number of special seats will be assigned to them as shown in the table. These seats will be filled by election from special constituencies in which only members of the "depressed classes" electorally qualified will be entitled to vote. Any person voting in such a special constituency will, as stated above, be also entitled to vote in a general constituency. It is intended that these constituencies should be formed in selected areas where the depressed classes are most numerous, and that, except in Madras, they should not cover the whole area of the Province.

In Bengal it seems possible that in some general constituencies a majority of the voters will belong to the Depressed Classes. Accordingly, pending further investigation, no number has been fixed for the members to be returned from the special Depressed Class constituencies in that Province. It is intended to secure that the Depressed Classes should obtain not less than 10 seats in the Bengal Legislature.
Part 11 will come soon.
Note: Untouchables or depressed classes by constitution of India are called as Schedule Castes (SC) and later Schedule Tribes(ST).
To read complete Chapter or book or more literature of DR. BR Ambedkar
click http://drambedkarbooks.wordpress.com/dr-b-r-ambedkar-books/
This forum is maintained by Cowdung Films
www.cowdungfilms.com
Editor: Nikhil Sablania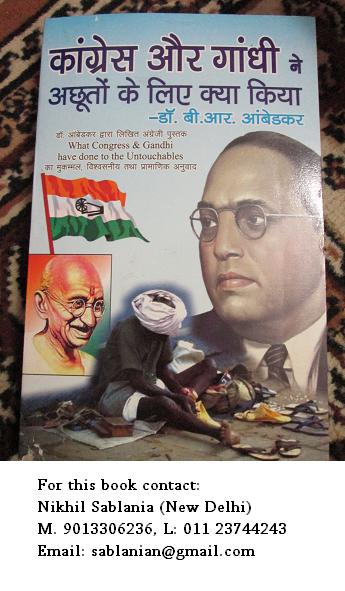 काँग्रेस और गाँधी ने अछूतों के लिए क्या किया?
: लेखक: डा बी आर आंबेडकर : यह पुस्तक अवश्य पढने योग्य है. मात्र इस पुस्तक को पढने से न सिर्फ आप भारत की राजनीती को समझते हैं बल्कि यह पुस्तक आपके मस्तिक्षक को इतना विकसित कर देगी जिससे कि न सिर्फ आपको भारत में बदलती राजनीती को समझने में मदद मिलेगी बल्कि आप में यह सामर्थ्यता भी आएगी है कि आप खुद को देश कि राजनैतिक व्यवस्था में किस प्रकार दिशा देते हैं. बाबा साहेब जी द्वारा लिखी यह एक ऐतिहासिक और दुर्लभ राजनैतिक कृति है. - निखिल सबलाणिया
हिंदी में यह पुस्तक मंगवाने के लिए संपर्क करे :
निखिल सबलाणिया
Nikhil Sablania
9013306236, 011 23744243
sablanian@gmail.com
Admin




Posts

: 76


Join date

: 2010-10-23




---
Permissions in this forum:
You
cannot
reply to topics in this forum